Follow Your Favorites!
Sign in
to get custom notifications of new products!

Featured Product
Wolverine and Shi : Dark Night of Judgment
by Crusade Fine Arts
Once again, it is time for The Quarter War.
Once again, Wolverine has come to do what he truly does best.
For this Quarter War, however, a New Hope has come to the Kyoto Sohei.
Speed of body and blade comes in the form of Ana Ishikawa--Shi.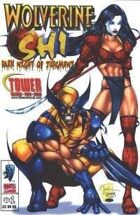 | Products found in this section... | Sort by: |
| --- | --- |
| | | |
| --- | --- | --- |
| Title | Publisher | Price |
| The original Captain Atom first premiered in the Golden Age, over a decade before the Charlton Comics character. Written by Jack Bellew and drawn by Arthur Mather, this was original Australian Atom Man! Dr. Rador grew up on the island of Atol, and given bizarre atomic superpowers. He escapes with the bikini-clad Princess Lais to the mainland where he battles the evil forces of Wrecker and his partner... [click here for more] | Mini-Komix | $2.00 $0.75 |
| Kayfabe is back with a second anthology filled with pro wrestling comic goodness. Some of the same "competitors" have returned for this volume, but we also have plenty of "rookie superstars" that have stepped up to the challenge. ... [click here for more] | Kayfabe Anthology | $6.00 |
| The young warrior known as Visiting Flare wanders Vaneha in search of the answers to the jumbled broken puzzle that is his past. In times of stress he catches fleeting glimpses of a time when his power reshaped history, but he does not know whether those visions are real or what they mean. When the truth is revealed to him, his past and present will collide and legends will come alive once more. This... [click here for more] | Onyx Path Publishing | $2.99 |
| The Bold Black Spider is the original arachnid avenger of comics! From the Golden Age pages of Ace Periodicals, Ralph Nelson is a District Attorney who leads a double life as the masked manhunter, Black Spider. The wanted vigilante uses his ability to control spiders to combat crime and capture the corrupt. 80 pages, and in color!... [click here for more] | Mini-Komix | $2.99 $0.99 |
| From the pages of White Wolf's hit RPG comes a new fantasy comic that will shake Creation to its knees. Udon Comics is proud to present a series that will appeal to the thousands of existing Exalted fans as well as brand new readers with no prior knowledge of the RPG line. A young boy named Kidale is anointed with the power of a reincarnated Solar Exalted and becomes the catalyst for conflict and... [click here for more] | UDON | $9.99 |
| Action Galore is an international ensemble of thrilling Golden Age comics. There's the Nazi-punching spy Freelance, feisty female reporter Kath King, reckless Orphan of the Storm, courageous Captain Cutlass, the historic Pony Express, and the stunning Starlight. 100 Big Pages of rip-roaring adventures!... [click here for more] | Mini-Komix | $3.00 $0.99 |
| A magazine dedicated to the new indie publishers using public domain characters in their original titles. Featuring special previews of Captain Z-Ro, from Visual Comics, Golden Kids' The Flame #0 and Three Sisters, by Michael Norwitz. Also featuring: Electro Belton's Lash Lightning, Lil' Terror by Dave Windett, pulp stories starring The American Crusader... [click here for more] | Public Domain Comics | $2.99 $0.99 |
| The Radical Red Demon collects the entire adventures of the original dark defender of comics! This Golden Age superhero is in reality Judge Straight, but when criminals slip through the cracks of justice he dons the daredevil disguise of Red Demon. All four chapters of Harvey Comics' masked man, and for the first time in color!... [click here for more] | Mini-Komix | $2.00 $0.75 |
| Super Soldier Stories is a collection of classic comics starring patriotic protectors. Golden Age superheroes who fight for American freedom. Starring V-Man, V-Boys, Minute Man, Miss America, Flag Man, Rusty, Super-American, Pat Patriot, Man Of War, Spy Smasher, Miss Victory, The Eagle and Buddy the Daredevil Boy! They fight Nazis, supervillains, masterminds, spies, robots, and more! 88 pages of exciting... [click here for more] | Mini-Komix | $3.00 $0.99 |
| Follow the artistic development of the Exalted roleplaying game all the way from its unused concept art to its current second edition splendor. Along the way, you'll see the world of Exalted brought to life through the talents of the industry's top artists, including Chris Stevens, Hyung-Tae Kim, Adam Warren and many, many more. Within, lavish, full-color art combines with commentary... [click here for more] | White Wolf | $13.73 |
| It's my first graphic novel from way back in 2006! Now available as an e-book for the first time! Do rough-and-tough special-ops leader Hawk and his team of bikini-clad commandos have what it takes to save the world from nuclear annihilation, save the family drive-in from loan sharks, save Vietnam from ninjas, all without messing up their hair? The Bikini Commando Squad skewers 30 years of action... [click here for more] | Amazing Art Bros. | $1.99 |
| Fawcett Publications produced some of the greatest Golden Age superheroes, so get a refresher course with the Fawcett Freedom Fighters! Starring the original Captain Marvel, Captain Marvel Jr., Mary Marvel, Spy Smasher, Ibis the Invincible, Mr. Scarlet, Pinky, Golden Arrow, Phantom Eagle, Nyoka the Jungle Girl, Captain Midnight, Bulletman, Bulletgirl, and Bulletdogl! Say "Shazam" and summon the Secret... [click here for more] | Mini-Komix | $0.99 |
| Aces & Angels has some of the best Golden Age heroes in the history of comics! Starring Captain Midnight, Nyoka the Jungle Girl, Star Pirate, Val Storm, Captain Comet: Space Ranger, Kitty Carson, Mysta of the Moon, Kaanga, Gara the Jungle Man, and Captain Terry Thunder! 100 Big Pages of space sagas, wild west, jungle action, air raiders, undersea terrors, and mystery men!... [click here for more] | Mini-Komix | $3.00 $0.99 |
| Rootin Tootin Comic Book Heroes slaps leather with the quickest draws there are from the Golden Age! 100 Big Pages of adventurers, superheroes, cowboys, and crime fighters! Starring cunning characters like: *Fighting Bob Dale *Jet Starr *Lariat Lucy *The Avenger *Golden Lad *Crime Smasher *Bob Allen: Frontier Marshal *The Sub-Zero Man *Target and The Targeteers... [click here for more] | Mini-Komix | $3.00 $0.99 |
| Shazam Family Giant wants you to "Make Mine Mary Marvel"! Billy Batson's twin sister Mary is revealed to be the Shazam Girl, Mary Marvel! With the powers of six goddesses, Mary joins Captain Marvel and Captain Marvel Jr. as the World's Mightiest Girl! She battles Mr. Power, wicked witches, crafty cavemen, runaway holidays, time travellers, attacking aliens, cunning crooks, and the sinister Sivanas!... [click here for more] | Mini-Komix | $0.99 |
| Griot Enterprises returns to the format that put the company on the map with four stories from the company's past, present and future.  With this one-shot, we're going back to the beginning while moving forward. We've got The Song of Lionogo: An Indian Ocean Mythological Remix, a fantasy tale that was created for the Smithsonian National Museum of African Art.... [click here for more] | Griot Enterprises | $9.99 $4.99 |
| Fantastic Fanzine Gallery collects original material from fanzines by comic book artists. This includes aliens, valkyries, demons, barbarians, elves, vampires, amazons, monsters, pirates, unicorns, goddesses, jungle girls, samurai, astronauts, ghosts, dragons, werewolves, fairies, cowboys, goblins, superheroes, knights, ogres, dinosaurs, space princesses, witches, and zombies! 100 Big Pages!... [click here for more] | Mini-Komix | $1.99 $0.99 |
| Book 1 of the Snake Claws Series. In this book: After discovering the power of the Forbidden Arts, Snake Claws, a ruthless and powerful martial artist, massacres and abandons the rigid Scorpion Sect, hungry for even more power and abilities. On his journey in search for the Forbidden Manual, he encounters a survivor from the massacre who is intent on revenge. The Snake Claws Series can be best... [click here for more] | Edison Neo | Pay What You Want |
| The Shazam Family Giant presents the Mightiest Mortal, the ORIGINAL Captain Marvel! Billy Batson is a boy reporter given the powers of six gods, allowing him to transform into the World's Mightiest Mortal! Captain Marvel saves the day from rampaging dinosaurs, alien invaders, mischievous magic, crooked criminals, and the devious Dr. Sivana! 100 Big Pages!... [click here for more] | Mini-Komix | $0.99 |
| Guardians of the Golden Age proves that there truly is Justice For All! Heroes from all over the globe like Target and the Targeteers, Hercules, Black Cat, Manhunter, Ace Hart, Miss Masque, Captain 3-D, Doll Man, Streamline, Vampire, and Crimson Comet! 100 Big Pages of truth and justice!... [click here for more] | Mini-Komix | $3.00 $0.99 |
| BreakNek from Lucky Comic's series Girl Commandos makes her solo debut here!  International terrorist organization S.C.Y.T.H.E. has set up a base in the desert where they are conducting strange experiments. Only BreakNek can stop them, but this is just the tip of the iceberg... ... [click here for more] | ErikOnPaper | $2.00 $0.75 |
| When a woman becomes the galaxy's first human wrestling champion she becomes the target for all the best, and the worst, wrestlers who think a human isn't good enough to hold the belt. Meet Charlene Rocket. Is she in over her head? Or can this woman from Earth take on the toughest, meanest wrestlers in the universe for the title! ... [click here for more] | Amazon Comics Group | $2.99 |
| Shazam Family Giant has a big reunion in All Together Now! The ORIGINAL Captain Marvel, Mary Marvel, and Captain Marvel Jr. team up in five fabulous fables! The Marvel Family travel through time, help the homeless, attack the Hissing Men, and battle the Sivana Family! 100 Big Pages of the very first superhero family!... [click here for more] | Mini-Komix | $0.99 |
| Shazam Family Giant serves up a huge slice of Big Red Cheese! The original Captain Marvel flies into six solo stories, and a trio of tales guest starring Captain Marvel Jr. plus Mary Marvel! The World's Mightiest Mortal vexes the Volcano Men, grabs gremlins, meets an immortal, finds a genius, punches pirates, gains the Midas touch, seeks the Miracle Stone, and duels the evil Dr. Sivanna. 100 Big Pages... [click here for more] | Mini-Komix | $0.99 |
| Kliffhanger Komix is a sizzling set of classics of Golden and Silver Age comics! The Phantom Ranger rides again, Jungle Jo hunts exiles, Blue Beetle battles the Eye of Horus, Judy Jones is the Power Puff Reporter, The Avenger rumbles with robots, Voodar smashes slave traders, Annie Oakley stops a showstopper, Little Al of the Secret Service goes undercover, Wonder Boy halts a heist, and Jungle Jim... [click here for more] | Mini-Komix | $3.00 $0.99 |
| Daring Dames heads up, up, and away with heroines unseen since the Golden Age of Comics! This league of super-heroines bands together from the cosmic reaches of the universe to save the day. Stand back for Pat Parker: War Nurse and her Girl Commandos, Yankee Girl, Miss Masque, The Veiled Avenger, The Woman In Red, Bulletgirl, Sally O'Neil: Policewoman, and Miss Fury. Truth and justice are under no... [click here for more] | Mini-Komix | $0.99 |
| Shazam Family Giant thunders through the Junior Journals! When Freddy Freeman says "Captain Marvel", he transforms into the World's Mightiest Boy. Now as Captain Marvel Jr., he goes into business with the rest of the Marvel Family. He also flies solo when he smashes sea monsters, fights freaks, catches clowns, punches pirates, duels a demon, attacks the Arabian Knights, and spites Sivana Jr. 100 Big... [click here for more] | Mini-Komix | $0.99 |
| Book 3 of the Snake Claws Series. In this book: News of the destruction of the Forbidden Manual has spread like wildfire. A heavy bounty has been put on his head and Snake Claws is on the run. Defiant as ever, he seeks out an old friend - Skipper, who just might be able to help. Little does he know that he is heading right into a trap. The Snake Claws Series can be best described as "If the Shaw... [click here for more] | Edison Neo | Pay What You Want |
| Guardians of the Golden Age leaps Up, Up, and Away! Superheroes of the stratosphere like Captain Midnight, Airboy, Lucky Wings, Eagle Evans, Prop Powers, Catman and Kit! Keep your decoder badge handy for awesome aerial adventures! 100 Big Pages!... [click here for more] | Mini-Komix | $3.00 $0.99 |
| Adventure ahoy! Thrill to the most action-filled comics from the Golden Age! Starring: Jungle Queen Camilla, Bulletgirl, Miss Victory, Ann the Amazon, Jane Martin, Polka-Dot Pirate, Nelvana, and Judy of the Jungle! Action, thrills, fantasy, sci-fi and more await in this amazing collection! 100 Big Pages!... [click here for more] | Mini-Komix | $0.99 |
| The ORIGINAL Captain Marvel in this Golden Age reprint of his official coloring book by Fawcett Publications in 1941! Billy Batson transforms into the World's Mightiest Mortal to save the Princess Beautia, stop the devious Dr. Sivana, mash monsters, get gangsters, and play pro football!... [click here for more] | Mini-Komix | $0.75 $0.50 |
| Book 2 of the Snake Claws Series. In this book: The aging Golden Dragon Warlord, retired and hiding away in a remote location with his daughter - Phoenix, and grandson, attempts to fend off Snake Claws. A futile fight follows, but all hope is not lost as Phoenix takes matters into her own hands. The Snake Claws Series can be best described as "If the Shaw Brothers kungfu movies were a saturday... [click here for more] | Edison Neo | Pay What You Want |
| The Mind-Boggling Micro-Face! Prior wartime inventor Tom Wood sets out to avenge his police brother's death by mob boss, Big Boston. With his weapons grade mask, Tom uses its advanced sensory and microphone technology to confound organized crime as Micro-Face! The complete collected run of the mike-mouthed man from the Golden Age of comics, and in color!... [click here for more] | Mini-Komix | $2.99 $0.99 |
| Charlene Rocket has formed an unlikely alliance with Azatala Zatara, the warrior princess of an interstellar empire. But not everyone wants to be her friend. Lurking in the dark hallways of the Galactic Wrestling League are many challengers for planet Earth's first champion. The deadly Daedarya has brought some allies of her own. And the ring is about to explode in this third chapter of Galaxy Wrestling... [click here for more] | Amazon Comics Group | $2.99 |
| The time before our time was not a time of senseless natural struggle and reptilian rage, but a time of myth and sorcery. It was a time of legend, when heroes walked Creation and wielded the very power of the gods. It was a time before the world was bent, a time before the magic of Creation lessened, a time before the souls of men became the stunted, withered things they are today. The Making of... [click here for more] | White Wolf | $1.99 |
| Bodacious brunettes with bangs abound in this curvy collection! Some of the most ravishing raven-haired heroines from the Golden Age of Comics get their dues. We have the awesome attorney Betty Bates, the slinky spy Seniorita Rio, the heavenly harem girl Halla, the jungle goddess Rulah, the voluptuous Valkyrie, the sexbot Syntac, the pretty Petite, feature writer Penny Wright, the leggy Long Sam, the... [click here for more] | Mini-Komix | $0.99 |
| Grim Ketsuko and bumbling Fubei have agreed to lead the arrogant ronin through the woods and over the mountain. But death walks freely in the night, as the dishonored samurai are stalked by shadows of the Black Tongue ninja--and a devil who walks among them. Intended for readers 12+ ... [click here for more] | Vault Comics | $3.99 |
| Shazam Family Giant reveals Marvels and Miracles! The original Captain Marvel soars in a cosmic collection of his Golden Age adventures! Learn the secret origin of the World's Mightiest Mortal, plus he meets Mr. Tawny, hits haunted armor, strikes down Dr. Sivanna, wrecks the Island Wrecker, goes after a gorilla, halts the Human Hawks, and takes a trip to the moon! 100 Big Pages!... [click here for more] | Mini-Komix | $0.99 |
| Guardians of the Golden Age teams together some Titanic Teens! Young heroes from the dawn of comics like Mary Marvel, Captain Marvel Jr., Tomboy, Golden Lad, T.N.T. Tom, Masterman, The Black Knight, Bobby O'Brien, Circus Girl, and the Chums of St. Albyns. 100 Big Pages of terrific teenagers!... [click here for more] | Mini-Komix | $3.00 $0.99 |
| Daring Dames rolls the dice with the four leaf clover of crimefighting, Lady Luck! Brenda Banks is a wealthy debutante who secretly socks it to evil when she puts on her green veil as a vigilante vixen. As Lady Luck, the emerald avenger takes down mobsters, spies, kidnappers, doppelgangers, and the wicked Warped Brain! 100 Big Pages of Golden Age good girl greatness!... [click here for more] | Mini-Komix | $0.99 |
| 16th century Japan. The fates of warlords ebb and flow like tides of blood, none more than the Aragami Clan who follow their lord clad in the 'Red Devil' mask into every battle. But when Lord Aragami succumbs to illness, his daughter, the fierce Ketsuko, hatches a plot to save her people, no matter the cost… Years later, as Ketsuko wanders the heaving battlefields of her ruined homeland, she... [click here for more] | Vault Comics | $17.99 |
| Twelve years before the Charlton Comics character debuted, the very first Captain Atom premiered in 1948! Writer Jack Bellew and artist Arthur Mather created the original Australian Atoman! With a fan club reaching into the millions, Captain Atom was the biggest Golden Age superhero from the land down under. Twin brothers are caught up in an atomic explosion, fusing them into the Atomic Man, a costumed... [click here for more] | Mini-Komix | $2.00 $0.75 |
| Princess Azatala must defend the championship belt until Charlene Rocket can recover from her injuries. But the Arcturan amazon who put Charlene out of the ring now has her sights set on the Princess, and the belt. Who can stop this rampaging she-beast in the ring? What secret is Daedarya hiding from the police? Find out in this fantastic fourth issue of Galaxy Wrestling All-Stars! ... [click here for more] | Amazon Comics Group | $2.99 |
| Galaxy Wrestling All-Stars #6 starts the "Championship Tournament" saga. Charlene Rocket must reclaim her title as Galaxy Wrestling Champion. But to get there she must battle her way through the toughest, most powerful foes she has faced yet in the squared circle. Along the way this Earth woman must discover the secret to becoming the Princess of an interstellar empire and survive her warrior training... [click here for more] | Amazon Comics Group | $2.99 |
| The Puppeteer was the star-spangled superhero of the Golden Age! Originally called "Capt. V", the patriotic Puppeteer is a super-strong American avenger that could fly on his red, white, and blue V-Beam. He and his hawk partner Raven fight the Royal Family of Crime, Prof. Erie, and the Fiddler of Flame! Nine amazing adventures, and in color!... [click here for more] | Mini-Komix | $0.99 |
| Guardians of the Golden Age looks into the Legion of Super Spies! Starring: Jill Trent-Science Sleuth, Ted Davey, Ace Malloy, The Shadow, Kismet-Man of Fate, Suicide Smith, Jet Fury, Kangaroo Man, and Drew Murdoch-The Ghost Gallery! 100 Big Pages of secret agents and dashing detectives!... [click here for more] | Mini-Komix | $3.00 $0.99 |
| 16th century Japan. The fates of warlords ebb and flow like tides of blood, none more than the Aragami Clan who follow their lord clad in the 'Red Devil' mask into every battle. But when Lord Aragami succumbs to illness, his daughter, the fierce Ketsuko, hatches a plot to save her people, no matter the cost... Years later, as Ketsuko wanders the heaving battlefields of her ruined homeland, she discovers... [click here for more] | Vault Comics | $3.99 |
| The Admirable Airmale is an airborne avenger from the Golden Age! Professor Kenneth Stevens created a special formula that he accidently spills on a costume for a party, giving him the power of flight. Now equipped with a gravity belt, the fearless flying superhero fights the forces of evil, along with his equally powered nephew-turned-sidekick, Stampy. The dynamic duo descends to deal with dangerous... [click here for more] | Mini-Komix | $2.99 $0.99 |
| 47 Furious Tails is a 12 issue limited series which tells the story of the Ako incident in a new and exciting way. Participants of this historic event are depicted as members of the animal kingdom. Join us as we tell the tale of this legend from Japan's rich history. ISSUE ONE Asano Naganori, lord of Ako, is preparing for his fateful trip to Edo.  But all is not ceremony and sake in Ako, as a band... [click here for more] | Sinopa Publishing LLC | $1.99 |
| With Akemi at the head of the Iga, and Genshi on the run. It's time for the Koga to step in and gain control of their rivals. Witness Genshi's struggle to control the Tengu as secrets from the past are revealed. New alliances will be formed and old relationships will be renewed! Collects issues #7-12. ... [click here for more] | Mad Cave Studios | $17.99 |