Follow Your Favorites!
Sign in
to get custom notifications of new products!

Featured Product
Atomic Robo RPG
by Evil Hat Productions, LLC
Action! Science! Robots! Punching! More Science!
Are you ready for some two-fisted science adventure? Have you ever wanted to face down global conspiracy as an immortal atomic robot or Carl Sagan? Grab your gear and get ready for full-contact, high-octane, explosive hypothesis testing!
Remain Calm. Tru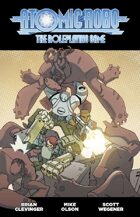 | Products found in this section... | Sort by: |
| --- | --- |
| | | |
| --- | --- | --- |
| Title | Publisher | Price |
| Green Hornet: Blood Ties is a precursor to Kevin Smith's Green Hornet series, and features the original Green Hornet and Kato in action! Ande Parks and Johnny Desjardins tell the exciting story of the last remains of the Italian Crime Family and the Japanese Yakuza. How did the two-man team of The Green Hornet and Kato bring about the fall of all crime in Century City? Find out here!... [click here for more] | Dynamite Entertainment | $7.99 |
| Official prelude to the movie starring Seth Rogen and Jay Chou as the Green Hornet and Kato! How does one man's actions affect another man's? Either purposely, or inadvertently. Or is it just destiny? This series shows how Britt Reid's actions lead to Kato coming in contact with the Green Hornet and the pair becoming the Green Hornet and Kato. Collecting the 5 issue series into one volume! Collects... [click here for more] | Dynamite Entertainment | $7.99 |
| Britt Reid, the masked crimefighter known as The Green Hornet, and his inseparable ally Kato return in an all-new tale by David Liss (Black Panther, The Spider) and Kewber Baal (Kiss)! If imitation is the sincerest form of flattery, it could be the deadliest for Central City's staunch defenders! Green Hornet's personal vendetta against organized crime creates a void in Chicago, one filled by two more... [click here for more] | Dynamite Entertainment | $8.99 |
| The original Captain Atom first premiered in the Golden Age, over a decade before the Charlton Comics character. Written by Jack Bellew and drawn by Arthur Mather, this was original Australian Atom Man! Dr. Rador grew up on the island of Atol, and given bizarre atomic superpowers. He escapes with the bikini-clad Princess Lais to the mainland where he battles the evil forces of Wrecker and his partner... [click here for more] | Mini-Komix | $2.00 $0.75 |
| Agatha Heterodyne and the Airship City Full-Color, with a short story illustrated by Cheyenne Wright! In a time when the Industrial Revolution has become an all-out war, Mad Science rules the World…with mixed success. At Transylvania Polygnostic University, Agatha Clay was a student with trouble concentrating and rotten luck. Dedicated to her studies but unable to build anything... [click here for more] | Studio Foglio | $19.95 $7.99 |
| Weird Western Adventures is a western anthology series that dives into the strange and otherworldly. It focuses on aliens, cryptids, tall tales, and retellings of strange tales from the American West. Two strange new tales! In The Lady and the Witch, Bea and James ride to Canto Triste, where boys are falling ill with a strange affliction. With the aid of a strange woman, they look for a cure, but... [click here for more] | Studio Stella Polaris | $5.00 $1.00 |
| Kayfabe is a collection of short stories by some of the best comic book creators working today. Not only do we share a love for comic books, but a love for the world of professional wrestling. Over 100 pages of stories from the squared circle from Mark Bertolini, CW Cooke, James Hornsby, Chris Welsh, Daniel Franco, and many more. ... [click here for more] | Kayfabe Anthology | $6.00 |
| KNOW, OH PRINCE, THAT BETWEEN THE YEARS WHEN THE OCEANS DRANK ATLANTIS AND THE GLEAMING CITIES, AND THE YEARS OF THE RISE OF THE SONS OF ARYAS, THERE WAS AN AGE UNDREAMED OF... The Art of Robert E. Howard's Conan: Adventures in an Age Undreamed Of features a selection of some of the most incredible art associated with the classic barbarian hero ever assembled into one set of covers. With... [click here for more] | Modiphius | $14.99 |
| Capes Vs. Crooks collection of cloaked and cowled crusaders from the Golden Age of Comics! Stylish superheroes like Black Spider, Duke Of Darkness, Lady Satan, Captain Wizard, Menace, Boomerang, and Alias The Dragon! 84 pages long, and in color!... [click here for more] | Mini-Komix | $3.00 $0.99 |
|  Commander X returns in this retro-romp through super-hero comics guest starring the greatest heroes of the golden age! Featuring an original story by DC comics alum, Brian Augustyn (writer of Gotham by Gaslight and JLA: Year One) and the Da Vinci of Golden Age redesign, our own Jay Piscopo (Artist/Creator of Commander X, Thorus, Sea Ghost and much more!) Starring Commander... [click here for more] | Public Domain Comics | $2.99 $0.99 |
| Enjoy this exciting cyberpunk comic featuring:  - Giant mech battles - A hard science universe from a creator who was, himself, a scientist.  - A revisting of the charazcters of Guinevere and the Divinity Facotur as well as WHite Liily.  Did I mention, it's PAY WHAT YOU WANT? ... [click here for more] | Pocket Jacks Comics | Pay What You Want |
| A-Bomb Era Comics splits the atom of sci-fi stories from the Golden and Silver Age of comics. 100 Big Pages Astounding adventures like *The Earth Conquerors *What Are You Going To Do With Your Future Joe? *Nightmare Among The Stars *The Man Who Stepped Out Of A Cloud *Sleeping Giant *Gullible's Travels *The Scrambler *Past Haunting *Nothing... [click here for more] | Mini-Komix | $3.00 $0.99 |
| Diversions #6 is here! Super-heroes, sci-fi, and sword and sorcery! Who but mighty Blue Moon gives you such a mix of genres?  It all starts with the origin of Mark F Davis' The Unbeatable Brick! When fighter pilot Mort Mason discovers another dimension, he finds himself irrevocably changed into a monstrous manipulator of his own molecules! Story by Lloyd Smith, art by David Johnson Jr. Writer/artist... [click here for more] | Blue Moon Comics Group | $3.50 $0.99 |
| Kreature Komix is a huge horror collection of classic comics from the Silver and Bronze Age. Starring kaiju, werewolves, carnival freaks, dinosaurs, aliens, demons, zombies, mermaids, snowmen, giants, sea serpents, and mad scientists. 100 Big Pages of creature feature fun! Featuring terror tales like: *Beast Of The Unknown *The Men Who Cried Monster *Down From The Deep *The Friendly Creatures... [click here for more] | Mini-Komix | $3.00 $0.99 |
| Down Under Wonders is a collection of Australian comic book heroes from the Golden Age! This includes the very first Captain Atom, Jet Fury, Phantom Ranger, Devil Doone, plus Catman & Kit! Awesome adventures from Australia! 100 Big Pages!... [click here for more] | Mini-Komix | $3.00 $0.99 |
| The Bold Black Spider is the original arachnid avenger of comics! From the Golden Age pages of Ace Periodicals, Ralph Nelson is a District Attorney who leads a double life as the masked manhunter, Black Spider. The wanted vigilante uses his ability to control spiders to combat crime and capture the corrupt. 80 pages, and in color!... [click here for more] | Mini-Komix | $2.99 $0.99 |
| Space Thrillers is a collection of interstellar sagas set in the stars! 100 Big Pages! Galactic goodness like: *Space Monsters *Planet Of Horror *The Fiend From The Outside *Vampires From Dimension X *The Unknown *Metal Terror *The Human Monsters *A Hole In The Sky *The Moon Is Red *Can You Take Her To The Stars *Planetoid Monsters *The Space Pirates... [click here for more] | Mini-Komix | $3.00 $0.99 |
| "I have to admit, that's when I got a little obsessed." There's a girl in a mask killing bad guys, but it's not Katherine Harlow. She's disappeared and a less experienced but enthusiastic wannabe has sidled in to take her place. You can bet that when Kat returns to reclaim Hollow Girl's mask, there's going to be a reckoning, and not just with her 'Little Sister'. Because Detective Collins... [click here for more] | AAM Markosia | $11.99 $5.99 |
| 'The Burning of Innsmouth' is a Lovecraftian-themed tale of eldritch horror and hidden corruption. In the all-too-quiet Massachusetts port-town of Innsmouth, nothing is quite what it seems and no one is who they say they are. The story takes place in 1927, just after the fictional events described by HP Lovecraft in his classic tale 'The Shadow Over Innsmouth'. Beautifully illustrated, it's a cat-and-mouse... [click here for more] | Tears of Envy | $2.99 |
| Weird Western Adventures is a western anthology series that dives into the strange and otherworldly. It focuses on aliens, cryptids, tall tales, and retellings of strange tales from the American West. Three strange tales! In The Lady and the Witch, Bea and James ride to Canto Triste, where boys are falling ill with a strange affliction. With the aid of a strange woman, they look for a cure, but can... [click here for more] | Studio Stella Polaris | $5.00 $1.00 |
| Action Galore is an international ensemble of thrilling Golden Age comics. There's the Nazi-punching spy Freelance, feisty female reporter Kath King, reckless Orphan of the Storm, courageous Captain Cutlass, the historic Pony Express, and the stunning Starlight. 100 Big Pages of rip-roaring adventures!... [click here for more] | Mini-Komix | $3.00 $0.99 |
| At the stroke of midnight, someone tried to murder billionaire Benjamin Blake. Instead of dying, Blake was left in a coma, his body on life-support, but his mind alert and searching...searching for revenge! When the extra-dimensional being known as Siege-L hears Blake's plea, they strike a bargain...Siege-L would use Blake's body as a portal to Earth--and together they would wreak havoc on evil! ... [click here for more] | Blue Moon Comics Group | $3.50 $0.99 |
| Krusader Komix is fearless famous fanzine heroes from the Golden Age of underground comics! The 60s were the dawn of Ama-Heroes, original amateur heroes made for fans, by fans. Starring Xal-Kor the Human Cat, White Canary, Goodguy, The Defender, Martin Grimm, Sorcerer's Apprentice, The Eclipse, Thunderbunny, Matrix, Space Guardian, Doctor Weird, and The Eye! 124 pages of rare original superheroes!... [click here for more] | Mini-Komix | $0.99 |
| High adventure on the high seas in the waning days of piracy, when men were men, and the best pirates were…women? Writer STEPHANIE PHILLIPS (Butcher of Paris, Descendent) and artist CRAIG CERMAK (Red Team, Voltron) bring to life the tale of Anne Bonny and Mary Read as they hoist the skull and crossbones, draw cutlasses, and seek a treasure that will make them legends. In an era where sailing with... [click here for more] | Top Cow | $11.99 |
| Pulp Science-Fiction takes the grit-heavy genre of dime novels with otherworldly comic books. 100 Big Pages of monsters, aliens, robots, zombies, witches, time travel, and mad science! Featuring greats like: *The Man With A Screw Loose *Premonition *If This Be Earth *Yawning Graves *Journey Through Time *The Deciding Factor *Eternal Death *Mr. Hobbs' Vacation *The Sun Maker *Nightmare... [click here for more] | Mini-Komix | $3.00 $0.99 |
| Octobriana is The First Russian Superheroine! Originally introduced as a European fanzine character, the time-traveler was brought into the world of Russian underground comics as a radioactive immortal with super strength that battles invading hordes, giant monsters, and the forces of oppression! This Silver Age siren is living proof that you don't come between an amazon and her cola!... [click here for more] | Mini-Komix | $0.99 |
| Diversions #3 is here with a trio of crime-busting superheroes! NIGHT SPIDER faces the diabolical duo of Megabyte and Googol! Art by JW Erwin! THE BLACK ROSE solves a murder in a faux Golden Age tale! Art by David Vance! The legendary Wraith of Wrath, THE MIDNIGHT STRANGER returns in a brand new adventure! Art by Joe Koziarski! All this and a pulsating NIGHT SPIDER pin-up by Dana Black! All stories... [click here for more] | Blue Moon Comics Group | $3.50 $0.99 |
| The Radical Red Demon collects the entire adventures of the original dark defender of comics! This Golden Age superhero is in reality Judge Straight, but when criminals slip through the cracks of justice he dons the daredevil disguise of Red Demon. All four chapters of Harvey Comics' masked man, and for the first time in color!... [click here for more] | Mini-Komix | $2.00 $0.75 |
| Super Soldier Stories is a collection of classic comics starring patriotic protectors. Golden Age superheroes who fight for American freedom. Starring V-Man, V-Boys, Minute Man, Miss America, Flag Man, Rusty, Super-American, Pat Patriot, Man Of War, Spy Smasher, Miss Victory, The Eagle and Buddy the Daredevil Boy! They fight Nazis, supervillains, masterminds, spies, robots, and more! 88 pages of exciting... [click here for more] | Mini-Komix | $3.00 $0.99 |
| Cabaret Comics is a bubbly bundle of bizarre burlesque! Golden Age comic strips of showgirls, strippers, chorus dancers, cigarette girls, models, torch singers, and other cartoon cuties both on and behind the stage! 100 Big Pages of fast fetching females!... [click here for more] | Mini-Komix | $3.00 $0.99 |
| Comic Stippers prints public domain pulp pretties! Learn the secret origin of Sheena: Queen of the Jungle, courageous Catgirl takes on a voodoo queen, the Femizons rule Earth in the future, Pantha leads a double life as a werecat, plus an adaptation of One Million Years B.C. Golden Age to Bronze Age angels throughout the history of comics!... [click here for more] | Mini-Komix | $0.99 |
| British Sci-Fi Comics collects science-fiction funnies from across the pond. Golden and Silver Age all-stars like Captain Future, Space Commander Kerry, Red Avenger, Space Pilot, Captain Condor, and the Spacetroopers! 100 Big Pages of hi-tech futuristic fun!... [click here for more] | Mini-Komix | $0.99 |
| High adventure on the high seas in the waning days of piracy, when men were men, and the best pirates were...women? Writer STEPHANIE PHILLIPS (Butcher of Paris, Descendent) and artist CRAIG CERMAK (Red Team, Voltron) bring to life the tale of Anne Bonny and Mary Read as they hoist the skull and crossbones, draw cutlasses, and seek a treasure that will make them legends. In an era when sailing with... [click here for more] | Top Cow | $1.99 |
| "What's the matter? Never had one fight back before?" Lowe is on the run. There's someone on his tail, someone worse than the police – a slinky black silhouette with a ghoulish white face. But the Hollow Girl is a vigilante who preys on the worst of the worst, so if she's after him then he has to have done something despicable to have earned her attention, right? Just who is... [click here for more] | AAM Markosia | $12.99 $5.99 |
| Interesting Monsters is a collection of curious creatures from classic comics! Mummies, aliens, werewolves, demons, robots, kaiju, zombies, and grotesque ghouls! 100 Big Pages! Abnormal abominations like: *The Fanged Monster *Horror Tree *The Werewolf *It Will Roam Tonight *The Deadly Little Invaders *Monster In Cloth *The Reuger Formula *Out Of The Unknown *Doom Creatures *Moon Stalker... [click here for more] | Mini-Komix | $3.00 $0.99 |
| Horror Comics Coloring Book captures public domain monsters from the Golden Age of comics for you to color in as you want! Vampires, aliens, witches, goblins, mutants, skeletons, demons, ghosts, zombies, banshees, dragons, reapers, gargoyles, werewolves, mummies, freaks, sorcerers, sea monsters, scream queens, and horror hosts! 64 Big Pages!... [click here for more] | Mini-Komix | $3.00 $0.75 |
| Mr. Mystic's Mystical Comics collects the first 5 newspaper chapters of Will Eisner's original superpowered hero. 100 Big Pages of supernatural thrills and chills! Also included are several magical tales from classic comics including: *Witch's Way *The Whirlpool *Moon Magic *The Valcourt Ring *Evil Essence *Beyond The Door Of Death *The Mystery Ships *Beliefs About Ghosts *The Striped... [click here for more] | Mini-Komix | $0.99 |
| Step into the world of the supernatural(?) vigilante, HOLLOW GIRL, in this collection of twisted morality tales from Luke Cooper, the creator of A Glimpse of Hell and artist behind Wolf Country and the True Believers Comic Award winning GoodCopBadCop. In MR TWITCH, Hollow Girl tries to find her lost humanity as she reflects on her past, including the dark night that made her what she is, how she learned... [click here for more] | AAM Markosia | $5.99 |
| Fawcett Publications produced some of the greatest Golden Age superheroes, so get a refresher course with the Fawcett Freedom Fighters! Starring the original Captain Marvel, Captain Marvel Jr., Mary Marvel, Spy Smasher, Ibis the Invincible, Mr. Scarlet, Pinky, Golden Arrow, Phantom Eagle, Nyoka the Jungle Girl, Captain Midnight, Bulletman, Bulletgirl, and Bulletdogl! Say "Shazam" and summon the Secret... [click here for more] | Mini-Komix | $0.99 |
| Aces & Angels has some of the best Golden Age heroes in the history of comics! Starring Captain Midnight, Nyoka the Jungle Girl, Star Pirate, Val Storm, Captain Comet: Space Ranger, Kitty Carson, Mysta of the Moon, Kaanga, Gara the Jungle Man, and Captain Terry Thunder! 100 Big Pages of space sagas, wild west, jungle action, air raiders, undersea terrors, and mystery men!... [click here for more] | Mini-Komix | $3.00 $0.99 |
| Buy a ticket for the greatest show in the galaxy, the Grand Old Space Opera! Sprawling stories of the starways featuring aloof astronauts, moon men, space sirens, futuristic fears, planetary princesses, apocalyptic amore, Martian maidens, dimensional dinosaurs, armored androids, and a history eraser button! 100 Big Pages!... [click here for more] | Mini-Komix | $0.99 |
| Step into the world of the vigilante, HOLLOW GIRL, in this twisted tale of supernatural revenge from Luke Cooper, the creator of A Glimpse of Hell and artist behind Wolf Country and the True Believers Comic Award winning GoodCopBadCop. Six years ago, little Katherine Harlow killed her parents. Showing no signs of regret or remorse, she was said to be a girl without a soul: A Hollow Girl. Now, wearing... [click here for more] | AAM Markosia | $3.99 |
| Far Out Comics is a groovy group of galactic gold! Cosmic crusades like: An Empty Earth, The Man Who Stole The Moon, Blind Fate, The Traitor's Image, Voices From The Dark, Things To Come, To Laugh Perchance To Live, Can This Be Real?, The Last Man On Earth, Space Saver, From Out Of The Night, The Horror Within And Without, Dredge From The Unknown, The Night They Learned The Truth, An Idol Of Their... [click here for more] | Mini-Komix | $0.99 |
| Step deeper into the world of the vigilante, HOLLOW GIRL, in this twisted tale of supernatural revenge from Luke Cooper, the creator of A Glimpse of Hell and artist behind Wolf Country and the True Believers Comic Award winning GoodCopBadCop. Wearing an expressionless white mask, Hollow Girl kills for the dead, a willing vessel for the souls of the wrongfully killed. But now her past has literally... [click here for more] | AAM Markosia | $3.99 |
| Rootin Tootin Comic Book Heroes slaps leather with the quickest draws there are from the Golden Age! 100 Big Pages of adventurers, superheroes, cowboys, and crime fighters! Starring cunning characters like: *Fighting Bob Dale *Jet Starr *Lariat Lucy *The Avenger *Golden Lad *Crime Smasher *Bob Allen: Frontier Marshal *The Sub-Zero Man *Target and The Targeteers... [click here for more] | Mini-Komix | $3.00 $0.99 |
| There was a time when Tessa Theus and Mystic Halo were friends. Will the two heroines be able to put aside their differences and work together? ... [click here for more] | OneSheepArmy Studios | $1.99 |
| More details about Tessa Theus' life are unveiled. Nothing is like it seems on MANIFEST. ... [click here for more] | OneSheepArmy Studios | $1.99 |
| Wade into the grim world of the supernatural vigilante, HOLLOW GIRL, in this tale of betrayal and retribution from Luke Cooper, the creator of A Glimpse of Hell and Figments, and artist behind Wolf Country and the True Believers Comic Award winning GoodCopBadCop. In LEGION, Hollow Girl forms an uneasy alliance with a cop to hunt down a sadistic murderer who seems to be copycatting the crimes of some... [click here for more] | AAM Markosia | $10.99 $5.99 |
| Superheroines from the Golden Ages of Comics! Feast your eyes on the feats of Miss Masque, Phantom Lady, Mysta Of The Moon, Spider Queen, Camilla, Yankee Girl, Fantomah, Pat Patriot, Blonde Bomber, Kitty Kelly, Girl Commandos, War Nurse, and Nyoka The Jungle Girl.... [click here for more] | Mini-Komix | $0.99 |
| MANIFEST continues its extravagant ride in the tradition of 70's/80's adult comix! An issue that will make you scream "SAFE SPACE!" even after its end! An unexpected event leads Tessa Theus into an even less predictable situation. Like the Wayfarer once said to her: "Nothing can be completely destroyed," especially the past. ... [click here for more] | OneSheepArmy Studios | $1.99 |